STEAL THE LOOK: The Kate Spade Aesthetic
We are deeply saddened by the news that visionary Kate Spade has passed, it's even worse that she took her own life. Today, June 6, we grieve the loss of a fashion icon. However, we must never forget to celebrate the beauty she left in the world.
Aside from being a famous bag designer, Kate Spade also had a very eclectic and classy home line. Her products were unique and eclectic, with the right touch of class. Be it the Kate Spade store or the home line, the word Kate Spare surely has a visual aesthetic attached to it. Also, let's not forget how beautiful every Kate Spade store is. Anyone who's been in one has probably wondered how nice it would be live in one!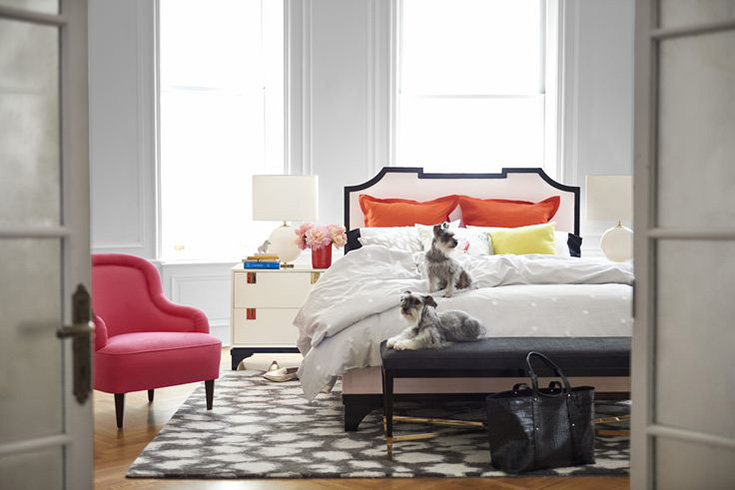 As a homage to this fashion and lifestyle icon, we made a list on how you can have a little part of her soulful and vibrant aesthetic in your space.
1 | Gold Trim
If you noticed closely at the cabinets of Kate Spade stores, they are usually lined with a metallic gold trim. The same goes for her home and stationary line, Kate wanted to make sure that every girl gets her sparkle through her products.
"She leaves a bit of sparkle wherever she goes." Kate Spade
2 | Display an Eclectic Word
One of Kate Spade's signature styles is adding an interesting word to her products or stores. "Saturday", "Live Colorfully," or "Hello", it doesn't matter what word it is as long as it makes you happy. The Kate Spade girl is eclectic, positive, and vibrant, and this is translated into the interiors through these words! So, do not be scared to add words in your space that will make every moment in your home more special.
"I adore pretty things and witty words." Kate Spade
3 | Have a statement floor
Be it a rug or a marble herringbone floor, no space can be spared. The KS aesthetic makes the most of an entire design from ceiling to floor!
4 | Have impressive lighting fixtures
In most Kate Spade stores, there's usually an eclectic light piece that illuminates the space. Invest in a beautiful lamp that will provide light and personality in your space.
5 | More Prints and More Patterns
A visual must-have for Kate Spade is a series of prints and patterns harmoniously working together. Among the most famous ones in the KS roster is polka dots, florals, and stripes!
6 | COLOR
Be it apple green or Tiffany's blue, Kate Spade stores are always have a splash (or more!) of color through a wall or a couch or countless accesories. Afterall, the company name's tagline is #LiveColorfully!